Insect Repellents
Insects are common in the tropics, and can affect your vacation there. The most problematic in the coastal areas of Costa Rica are mosquitos and no-seeums. Here are some tips:
Mosquitoes are attracted to things that remind them of nectar or mammal flesh. When outdoors, wear light clothing that covers most of the body, keeping as much of the skin and hair covered as practical. Avoid bright, floral colors. Khaki, beige, and olive have no particular attraction for mosquitoes. They are also attracted by some body odors, and for this reason they choose some individuals over others in a crowd. Avoid fragrances in soaps, shampoos, and lotions. Most bites occur right around dusk and dawn, though some species of mosquito will bite at any time through the night. Others will bite any time, but only in heavily shaded areas such as in the rainforest.
No-seeums, called Perugas (pronounced per-oo-hahs) by the Costa Ricans, are very difficult to see. Most bites occur right around dusk and dawn, and they are common along the beaches at that time. Their bites itch, but rarely swell up or cause further problems. Most insect repellents, including the natural ones listed below, are very effective at deterring these gnats.
Repellents: The Centers for Disease Control and Prevention (CDC) recommends using an insect repellent on exposed areas of skin. The most effective compound is DEET (N,N-diethyl meta-toluamide), an ingredient in most insect repellents. However, insect repellents containing DEET should be used sparingly on children. Don't apply it under clothes, or too much of the toxic substance may be absorbed. Also, avoid applying repellent to portions of the hands that are likely to come in contact with the eyes and mouth. For greater protection, clothing and mosquito nets can be soaked in or sprayed with permethrin, which is an insect repellent licensed for use on clothing. If applied according to the directions, permethrin will repel insects from clothing for several weeks. These specialty items can be purchased in hardware, back-packing, and military surplus stores.
Some studies suggest that taking thiamine (vitamin B1) 25mg to 50 mg three times per day is effective in reducing mosquito bites. This safe vitamin apparently produces a skin odor that is not detectable by humans, but is disagreeable to pregnant mosquitoes (Pediatric Clinics of North America, 16:191, 1969). It seems to be especially effective for those people with large allergic reactions. Thiamine takes about 2 weeks before the odor fully saturates the skin.
DEET based repellents are readily available throughout the world, and are also available throughout Costa Rica. However, when travelling to Costa Rica keep in mind that most airlines do not permit aerosol cans in checked or carry-on luggage.
There are some good non-DEET based alternatives, with our favorites listed below. These are not readily available in stores, but you can click on the links to purchase them online.
---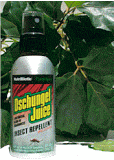 Dschungle Juice Natural Insect Repellant
Dschungel Juice (pronounced shung'gel), is the most effective alternative to DEET based insect repellents we have found. Dschungel Juice is a pleasant scented water based mist that lets the skin breathe, repels mosquitoes and lets you enjoy the outdoors. This unique combination of essential oils of clove, eucalyptus, geranium, orange, palma rosa, rosemary and sage in a natural base is free of chemical preservatives, alcohol & colorings.
Order Now from HerbalRemedies.com, $4.99
See HerbalRemedies.com's complete line of Natural products
---
Avon Skin-So-Soft
Avon Skin-So-Soft Original is another great alternative to DEET containing insect repellants. It works so well that the U.S. Military adopted it as an insect repellent of choice. We like it's pleasant smell. It works well, but needs to be re-applied every few hours. They have re-formulated Skin So Soft into a line of bug repellants called the Skin-So-Soft Bug Guard Plus (see below).
Order Direct from Avon
---
Skin-So-Soft Bug Guard Plus
Avonís exclusive patented IR3535 formula, is DEET- and PABA-free, so itís a great choice. Based on the original Skin-So-Soft Bath Oil formula, these last longer, and are available in waterproof versions, with or without sunscreen. They're effective against mosquitoes, deer ticks, black flies, sand flies, gnats, no-seeums and other biting insects. The Bug Guard Plus line is available in the following formulations:


Skin-So-Soft Bug Guard Plus IR3535 Insect Repellent Moisturizing Lotion

Skin-So-Soft Bug Guard Plus IR3535 Insect Repellent Moisturizing Sunblock Lotion SPF 30
Skin-So-Soft Bug Guard Plus IR3535 Insect Repellent Moisturizing Sunblock Lotion SPF 30

Skin-So-Soft Bug Guard Plus IR3535 Insect Repellent Spray